Roll over or click image to zoom in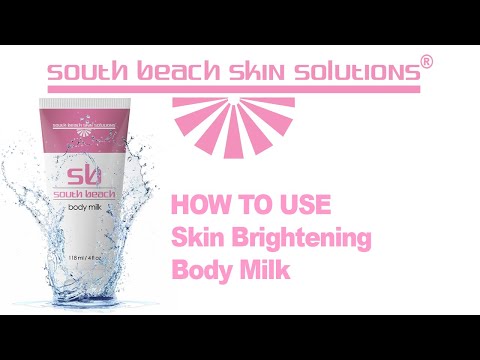 South Beach Skin Body Milk
+5% VAT EXTRA
Order via whatsapp
جميع المنتجات أصلية و مسجلة في هيئة الإمارات للمواصفات والمقاييس و مسجلة في بلدية دبي.
All products are Authentic and registered with the Emirates Authority for Standardization and Metrology and registered with Dubai Municipality.
customers are viewing this product
Share With your Friends:
Ideal for brightening larger areas of the body such as knees, elbows and inner thighs. Instant effect gives you a brighter glow from the first application.Dermatologist tested.
Dark knees, elbows and inner thighs This is very common. But now there is a safe and simple solution.
Many of our customers requested a product suitable for use over the whole body. Our luxurious South Beach Skin Lightening Body Milk skin brightening lotion is the ultimate in safe, gentle and effective natural use for larger areas of the body such as the knees, elbows and inner thighs. Our exclusive Insta-Brite technology developed by us provides an instant brightening effect with each application, giving your skin a brighter, more youthful glow from the first day you use it. With continued use, the active ingredients work with your skin to provide long lasting results and even out skin tones. It is very safe and easy to use. Unlike cheap drug store skin lighteners or bogus imitators, our specially-formulated South Beach Body Milk is very gentle and does not contain any potentially harmful or irritating chemicals such as Kojic Acid, Hydroquinone or Mercury.
BEST USE:
Large Areas / All Over Body
Dark Knees & Elbows
Dark Inner Thighs
Dark Spots on Exposed Areas
Age/Liver/Sun Spots
Burn Marks / Scars (Discoloration)
Hyperpigmentation
Melasma / Chloasma (Pregnancy Mask)
All Areas of the Body
All Skin Types
How to use:

For best results, use twice a day (morning and evening). Wash as normal. Allow skin to dry. Apply directly to the desired area by gently rubbing in a circular motion until completely absorbed into the skin. No gloves or brushes needed. To start, apply only asmall amountto see how the brightening effect looks. You should experience a significant brightening effect from our Insta-Brite technology. This is normal. Add more as needed and continue use until the desired result is achieved. Allow to dry completely before applying any other products. Continued use maintains the look as desired.

Ingredients:

Water (Aqua), Helianthus Annuus Seed Oil, Glycerin, Emulsifying Wax, Zinc Oxide, Manihot Utilissima Starch, Lonicera Caprifolium Flower Extract, Pyrus Malus Fruit Extract, Saccharum Officinarum Extract, Camellia Sinensis Leaf Extract, Primula Veris Extract, Alchemilla Vulgaris Leaf Extract, Arctostaphylos Uva Ursi Leaf Extract, Malva Sylvestris Extract, Glycyrrhiza Glabra Root Extract, Phenoxyethanol, Veronica Officinalis Leaf Extract, Passiflora Edulis Fruit Oil.

// Viewed image tracking by Klaviyo